CONTI SYNCHROFORCE CARBON Timing Belts
High performance timing belts with carbon tensile fiber CONTI SYNCHROFORCE CARBON in HTD, STD and CTD profile are intended for high forces, accelerations and shock loads. They are manufactured according to ISO 9563.
Thanks to their high tensile strength and dynamic load-bearing capacity they allow synchronous drives in narrow spaces, thus creating ideal conditions for the construction of economical drives with small construction volume and low weight.
Due to their special material properties they are maintenance-free, lubrication and re-tensioning is not necessary.
CONTI SYNCHROFORCE CARBON
Tooth pitch (mm): 8.0
Length range Lp (mm): 416 – 3808
CONTI SYNCHROFORCE CARBON
Tooth pitch (mm): 8.0
Length range Lp (mm): 440 – 2848
CONTI SYNCHROFORCE CARBON
Tooth pitch (mm): 8.0
Length range Lp (mm): 416 – 3600
Belts Construction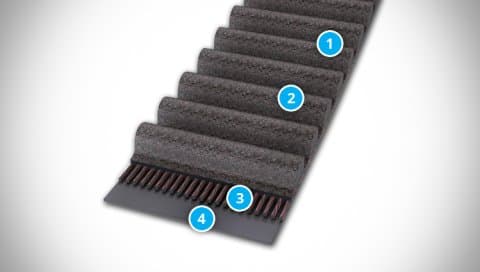 Specially finished fabric
Synthetic rubber teeth
Carbon hybrid tension member
Synthetic rubber backing
Belts Fields of Use
The CONTI SYNCHROFORCE CARBON timing belts are the most durable and powerful rubber timing belts. They are used in transmissions with high shock loads, highest torques and acceleration.
They are typically used in machine tools, presses, textile machines, printing machines, in the automotive industry and many other machines.
Belts Characteristics
Unrivaled performance
Oil-resistant
Belt speed up to 60 m/s
Antistatic in accordance with ISO 9563
Temperature range, depending on application, from −30 °C to +130 °C
Suitable for reverse flexing
Maintenance-free
Belts Code Description
Example:
HTD 8M-1200-50 CARBON CONTI SYNCHROFORCE
| Code Part | Description |
| --- | --- |
| HTD | Profile |
| 8M | Tooth pitch in mm |
| 1200 | Belt length in mm |
| 50 | Belt width in mm |
| CARBON CONTI SYNCHROFORCE | Type of belt |
Belts Certification
Notice
General factory certificates are not sufficient for belts used in potentially explosive atmospheres.
If a test report according to ISO 1813 and ISO 9563 is required for the application, it is necessary to inform us of the request for delivery of belts including the certificate when ordering them (when ordering belts via Eshop, please write this request in the "Note" field before by sending the order). The certificate is issued by ContiTech after the test in the production plant.
Documents for Download
Belt Manufacturer Profile
Continental is the world's largest specialist for rubber and plastics technology in the non-tire rubber sector. A division of Continental AG, the company develops and produces functional parts, components and systems for the automotive and other important industries.
ContiTech importance on immediate proximity to customers. ContiTech is active in 26 countries with 75 production sites and more than 40 R&D facilities and sales organizations. The customers around the world stand to profit: Greater safety. Higher efficiency. Closer proximity.
TYMA CZ, s.r.o., is the official distributor of Continental ContiTech Power Transmission Group.