Slat Top and Conveyor Chains
Slat top chains are made of special reinforced high-strength plastics or stainless steel.
They consist of plastic or metal links or plates that are connected to each other by pins or drive locks. The plates can be also mounted on a classic roller chain. The slat top chains also include drive and driven wheels, guide profiles, side guards, etc.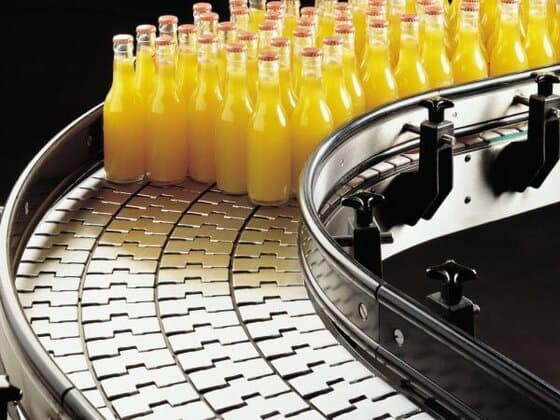 Main Types of Slat Top Chains
Type of a Chain

Description

Illustration

SLAT TOP plastic chains

SLAT TOP plastic chains with plates connected by pins are a light, strong and quiet alternative to steel chains.

The SUPER FLEX guide system is available for Bevel and Tab chains. They are also available with RUBBER TOP surface. SLAT TOP chains enable straight and side flexing running.

SLAT TOP steel chains

They are mainly used in fields that handle glass containers. They are very strong, suitable for use in high speeds. Broken glass will not affect the function of the chain.

The offer includes chains made of hardened carbon steel and stainless steel. They enable straight and side flexing running.

SNAP-ON chains

Special roller chains with extended pins and plastic or rubber flights are suitable for applications with requirements for high speed and lower operating noise. Overlapping plates are an advantage in cases where it is necessary to avoid trapping the transported product in the gaps between the plates.

All versions of SNAP-ON chains can be supplied in both stainless steel and carbon steel versions. They enable straight and side flexing running.

uni FLEX plastic chains

Universal plastic chains are mainly used for handling crates. They show high tensile strength and operating capacity.

They are available in open and closed versions. They enable also side flexing running.
In addition to the basic types mentioned above, there are also other less common variants of chains designed for specific applications. Even in case of such a specific request, please do not hesitate to contact us.
Chains Fields of Use
Slat top chains are designed for the transport of material in special industrial applications, especially in the beverage industry or in other food operations. They are also used in the production of bottles and glasses in the glass industry, in the rubber industry, but also in conveyors at airports or distribution centres, as well as in other machines and equipment.
Chains Accessories
Sprockets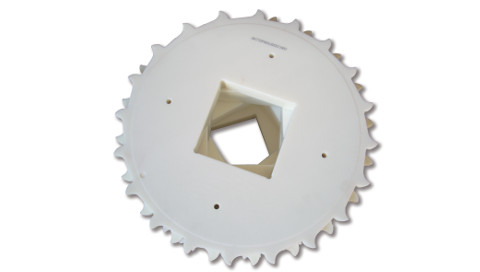 Standard sprockets are available for each chain type. They are determined by the following parameters:
Number of teeth

Bore:
cylindrical or square bore shape; with or without hole for fixing screw

Sprocket material:
cast iron, steel, stainless steel, PA6/nylon

Sprocket production method:
machined or injected

Sprocket design:
one-part – full or two-part – divided

Running type:
one-way or two-way
Specifications of sprockets suitable for a specific type of chain can be found in the Catalogue of uni-chains (PDF file for download).
Documents for Download
Question about the Chain Category
Do not hesitate to contact us with any questions about products in this category.
Manufacturer Profile
uni-chains is one of the world's leading manufacturers of plastic modular belts and conveyor chains. It manufactures a wide range of products for various industries – e.g. the automotive industry, the production of cardboard and corrugated fiberboard, tires or the food industry.
It is now part of Ammeraal Beltech, based in the Netherlands with a total of 2,750 employees in 26 countries. Production takes place in 10 plants in Europe, the USA, Canada and Asia. Sales and production centers are located in more than 80 locations around the world and the company has its own branches in more than 25 countries.
We are the official distributor of Ammeraal Beltech for the Ústí nad Labem, Liberec and Karlovy Vary regions.