Modular Belts
Modular belts consist of plastic modules, which are connected to each other by connecting pins. They are made of highly durable plastics with high load-bearing capacity.
The belts can be made to almost any length and width. They are driven by sprockets, which also take over the function of guiding the modular belt. Application is possible in straight, radius and spiral direction. A wide range of accessories is available.
Main Types of Belts
| Type of Application | Description | Illustration |
| --- | --- | --- |
| Straight running with open surface | Belts with open surface are used in applications requiring higher belt breathability. They are suitable for cooling and water drainage. | |
| Straight running with closed surface | Belts with closed surface are suitable if easy cleaning of the belt is required, for transporting heavy loads, for higher stability of transported products and in other applications. | |
| Straight running with accumulation | Belts with different types of rollers on their top surface, which allow the accumulation of transported objects even when the conveyor is running. We offer rollers with a number of possible surfaces and various orientation options. | |
| uni FLEX side flexing | The uni FLEX series offers belts with various degrees of possible radius, plastic and hybrid solutions, pinless and pinned belts. It allows high curve loads, high tensile strength and wear resistance. The offer includes variants from small opening % to the most open side flexing belts on the market. | |
Even in case of another specific request, please do not hesitate to contact us.
Belts Fields of Use
Modular belts are designed for the transport of material in many industries.
They are used mainly in the food industry in meat processing or in bakeries. They are also used in the automotive and rubber industries, on airport conveyors, in distribution centres and in many other machines and equipment.
Belts Material
Modular belts are made of highly resistant materials, which have a wide application range due to their physical and chemical properties. The following plastics are most commonly used:
Polyoxymethylene (POM)

Acetal (POM) is the most popular material used in general applications that require higher tensile strength.

Polypropylene (PP)

Polypropylene is a universal material used mainly in the food industry and in non-demanding applications, especially in cases where the decisive factor is price.

Polyethylene (PE)

Material for application at low temperatures. It is mainly used in the food industry.

Polyamide (PA)

Nylon (PA) is mainly used for the production of sprockets and for special belt applications.
Further information on uni-chains materials can be found in the Overview of uni-chains Materials (PDF file for download).
Belts Accessories
Sprockets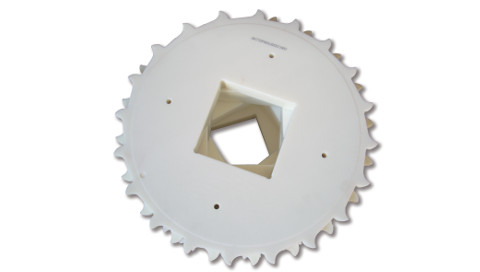 Standardized sprockets are available for each type of modular belt. They are determined by the following parameters:
Number of teeth

Bore:
cylindrical or square bore shape; with or without hole for fixing screw

Sprocket material:
cast iron, steel, stainless steel, PA6/nylon

Sprocket production method:
machined or injected

Sprocket design:
one-part – full or two-part – divided

Running type:
one-way or two-way
Specifications of sprockets suitable for a specific type of modular belt can be found in the Catalogue of uni-chains Modular Belts (PDF file for download).
In case of interest, we also offer an innovative system of two-part uni ULTRAFIT sprockets with built-in interchangeable adapters for the possibility of exchanging sprockets without dismantling the shaft, as well as uni UltraClean sprockets for use in demanding conditions of the food industry.
Flights and Side Guards
These elements for carrying material or objects are accessories of only some types of modular belts. Their construction and dimensions vary depending on the series. For information on the compatibility of individual modular belts with accessories, please see the Catalogue of uni-chains modular belts (PDF file for download).
If you are interested, do not hesitate to send us your inquiry, our specialists will be happy to help you with your selection.
Type of Accessories

Description

Illustration

Transverse plastic uni flights

These elements serve as partitions on the upper side of the belt. They are inserted instead of usual flat segments and are a permanent part of the belt.

Plastic flights enable the inclined transport of objects and prevent them from slipping or falling off the belt.

uni inserts

These elements are always designed for a specific belt and are inserted on the bottom or top of the belt. They are used to carry objects. For some types, they may also have a rubber outer surface to increase adhesion.

They enable the inclined transport of objects and prevent them from slipping or falling off the belt.

uni AMFLIGHT flights

Separate elements that are located on the top of the modular belt.

When moving the belt without a pad, the flights are lowered and the transported products lie freely on the belt. As soon as the belt meet the pad, the flights rise and form a stop which prevents the material from falling or shifting downwards. After the belt comes off the pad, the carriers fold down again.

uni POP-UP flights

Separate elements that are located on the top of the modular belt.

Pop-up flight pops up at the foot of the conveyor incline to support the food as it moves up the elevator, holding it steady. Then, once the product has been successfully discharged, the flight pops down again so an automatic scraper can clean up the belt – especially helpful for sticky, clingy food products.

It is simple to fit the Pop-up flight to the existing uni modular belt system – no secondary drive motors or complex controls are needed. It is also easy to maintain, and it contributes significantly to plant hygiene.

uni RUBBER TOP

The individual elements corresponding to the shape and spacing of the respective modular belt which have a rubber surface on the upper side.

These elements are inserted instead of the usual flat segment and are a permanent part of the belt. In some cases, the rubber elements may be on the entire modular belt.

Rubber elements enable the inclined transport objects and prevent them from slipping or falling off the belt.

uni SIDE GUARD

The SIDE GUARD guards are plates designed to be installed lengthwise at the belt edge to form a wall. These are separate elements that are attached to the top of the belt and prevent the conveyed material from spilling and falling over the sides of the belt. They are usually combined with transverse flights for the inclined transport of objects.
Documents for Download
Question about the Belt Category
Do not hesitate to contact us with any questions about products in this category.
Manufacturer Profile
uni-chains is one of the world's leading manufacturers of plastic modular belts and conveyor chains. It manufactures a wide range of products for various industries – e.g. the automotive industry, the production of cardboard and corrugated fiberboard, tires or the food industry.
It is now part of Ammeraal Beltech, based in the Netherlands with a total of 2,750 employees in 26 countries. Production takes place in 10 plants in Europe, the USA, Canada and Asia. Sales and production centers are located in more than 80 locations around the world and the company has its own branches in more than 25 countries.
We are the official distributor of Ammeraal Beltech for the Ústí nad Labem, Liberec and Karlovy Vary regions.