RCK Locking Bushes
RCK Locking Bushes (Classical) are cylindrical clamping elements with a cylindrical inner bore.
They provide a strong and economical shaft-hub connection as an alternative to key, wedge and groove connections. The friction joint eliminates the joint clearance and provides more precise rotation of the clamped part. Once fixed, the component is capable of transmitting torque while being secured against axial displacement.
Bushes Fields of Use
RCK clamping elements are used in a variety of industrial applications.
They are used to fix all types of V-belt, timing and flat pulleys, sprockets, TB hubs, shaft coupling, drums, flywheels and many other components.
Bushes Material
Steel C43.
Bushes Advantages
Clearance elimination provides more accurate rotation of the clamped part
Even load distribution over the entire circuit
Simplify synchronization between components that are involved and act as a file
Increasing the resistance of the drive part of the shaft
Easy of assembly and disassembly offer the user the opportunity to optimize the assembly and reduce its costs
Maintenance without having to stop the machine
Easy availability of spare parts
Bushes Code Description
Example:
RCK 11 - 130 × 180 mm (KLEE 130)
| Code Part | Description |
| --- | --- |
| RCK 11 | Type of clamping element |
| 130 | Inner diameter of the clamping element - hole size in mm |
| 180 | Outer diameter of the clamping element in mm |
| KLEE | Second type of clamping element marking |
| 130 | Inner diameter of the clamping element - hole size in mm |
Documents for Download
TYMA CZ Data Sheets
Czech and English (PDF 3.14 MB)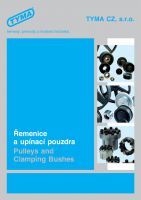 TYMA CZ Catalogue
Czech and English (PDF 3.64 MB)