ContiTech Air Actuators
ContiTech air actuators are made of special highly durable rubber. The complete air spring is made of a rubber-textile bellows and connecting parts with an opening for air supply.
They enable handling of equipment, machines and their parts while ensuring pneumatic suspension and isolation of vibrations and shocks.
The broad product range is designed for a variety of pneumatic applications from 0.5 kN to 440 kN lifting power using pneumatic bellows with diameters of 60 mm to 950 mm and a stroke of up to 455 mm.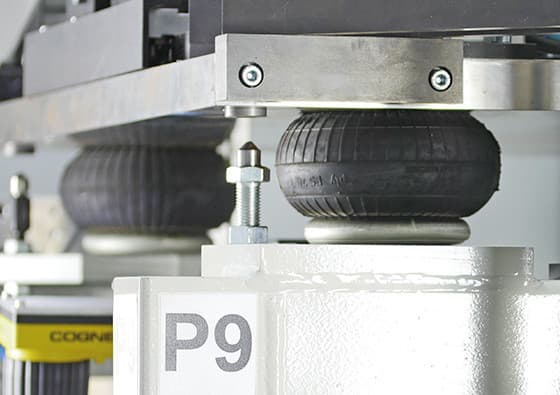 Actuators Fields of Use
ContiTech air actuators are used in a variety of industrial applications.
They are used mainly in conveyors and motor vehicles, in agricultural, food, textile or paper machines, in saws, presses and many other machines.
Actuators Characteristics
Low construction height
Possibility of angular movement
Low wear
Long service life, no maintenance required
High lateral stability
Low cost and easy installation
Product Series
To find a specific product, please use the official ContiTech Airspring Catalog.
Depending on the size and model range, there is a choice of single, double or triple bellows.
| Model | Description | Illustration |
| --- | --- | --- |
| Series C | Air actuators with permanently mounted connection parts. | |
| Series D | Air actuators with removable connecting parts. | |
| Series R | Air actuators with bead ring connecting parts. | |
| Series S | Rolling lobe actuator with plastic connection parts. | |
Documents for Download
Question about the Actuators Category
Do not hesitate to contact us with any questions about products in this category.
Manufacturer Profile
Continental is the world's largest specialist for rubber and plastics technology in the non-tire rubber sector. A division of Continental AG, the company develops and produces functional parts, components and systems for the automotive and other important industries.
ContiTech importance on immediate proximity to customers. ContiTech is active in 26 countries with 75 production sites and more than 40 R&D facilities and sales organizations. The customers around the world stand to profit: Greater safety. Higher efficiency. Closer proximity.
TYMA CZ, s.r.o., is the official distributor of Continental ContiTech Power Transmission Group.