BANFLEX SCRUM 11MS Special Banded V-Belts (PUR)
BANFLEX SCRUM special polyurethane wedge V-belts with a wedge angle of 60° in 11MS profile are intended for transmission of high speeds with smooth and quiet operation with very low vibration.
The belts are made of highly durable polyurethane and a special tension member. The diagonally grooved back of the belt optimizes its flexibility.
Products are sorted by name in ascending order.
Products are sorted by name in ascending order.
Belts Construction
Ribbed top
Polyester tension member
Polyurethane
Belt Dimensions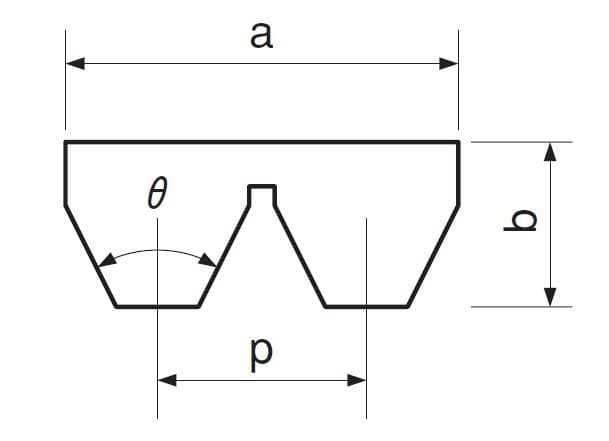 a

Top Width

b

Thickness

p

Pitch
| Type | Top Width a | Thickness b | Pitch p |
| --- | --- | --- | --- |
| 11MS 2 Ribs | 24.4 mm (0.96 ″) | 7.0 mm (0.28 ″) | 13.2 mm (0.52 ″) |
| 11MS 3 Ribs | 37.6 mm (1.48 ″) | 7.0 mm (0.28 ″) | 13.2 mm (0.52 ″) |
Belts Fields of Use
Special PUR BANFLEX SCRUM profile 11MS V-belts are used as drive belts especially for high-speed machines, for smooth running and high precision requirements, for example machine tools, woodworking machines and others.
Belts Characteristics
High speed drives with a belt speed of up to 60 m/s
High efficiency and durability, long service life
Small pulleys diameter, small transmission dimensions, low vibration even at high speeds
Temperature resistant from −30 °C to +60 °C
Belts Code Description
Example:
3-11MS-1500 La BANFLEX SCRUM
| Code Part | Description |
| --- | --- |
| 3 | 3-banded |
| 11MS | Profile |
| 1500 La | Outside length in mm |
| BANFLEX SCRUM | Type of belt |
Caution
The BANFLEX SCRUM (PUR) belts cannot be used with standard V-belt pulleys, only with special pulleys with an angle of 60°!
Documents for Download
TYMA CZ Data Sheets
Czech and English (PDF 274.46 kB)
TYMA CZ Catalogue
Czech and English (PDF 4.54 MB)
Belt Manufacturer Profile
Japanese company Bando has been a pioneer in the non-tire rubber and plastics industries since their founding in 1906, responding to customer needs with new technology and product development.
Over the years Bando have expanded upon their core business to meet the ever-changing needs of the times, and they now produce a wide range of products. They now serve their customers worldwide from more than 10 countries in Asia, North America and Europe.