CONTI POLYROPE Flat Ropes
CONTI POLYROPE belts are open-ended polyurethane flat belts. They consist of steel tension member embedded in thermoplastic polyurethane.
Flat Elevator Belts as an Alternative to Steel Ropes
The belts are certified for use as a suspension device for installation in electrically or hydraulically powered passenger or freight elevators according to the EN 81-1 Standard and the Lift Directive 95/16/EC.
The belts have very high tensile strenght, excellent flexibility and wear resistance. They are available in various widths, in whole rolls or in lengths according to customer requirements.
Ropes Construction
Polyurethane pulley side
Steel cord tension member
Polyurethane backing
The CONTI POLYROPE Flat Ropes consists of 2.0 mm thick steel ropes, which are embedded in a black polyurethane coating.
The test results have shown that its service life is three times longer than the service life of current steel ropes under the same conditions.
Long-term strength shows only a slight decrease after several millions of cycles. The traction test for the cycle value confirms the high wear resistance of the entire system.
Material and Construction Innovations

Thanks to its greater flexibility and traction the CONTI POLYROPE enables compact drives with much smaller pulley diameters in comparison to conventional drives with steel cords.
Significantly smaller pulleys make it possible to use smaller gear motors and create space-saving drives with low inertial masses. This reduces production costs and energy consumption.
Ropes Fields of Use
CONTI POLYROPE flat elevator belts are used in elevators and lifting systems. They are certified for use as a suspension device for installation in passenger elevators according to the EN 81-20/50 Standard and the Lift Directive 2014/33/EC.
They serve as an alternative to steel ropes in passenger and freight elevators.
Ropes Advantages
Compared with steel ropes, CONTI POLYROPE belts have better properties especially in the following parameters:
3x longer service life than steel ropes
Significantly lower weight
Higher flexibility
Significantly smaller pulley diameters (from 100.0 mm)
Maintenance-free operation
Higher efficiency, lower energy consumption
Smooth running without vibrations and noise
Low wear and tear of traction wheels and pulleys
Rope Types and Parameters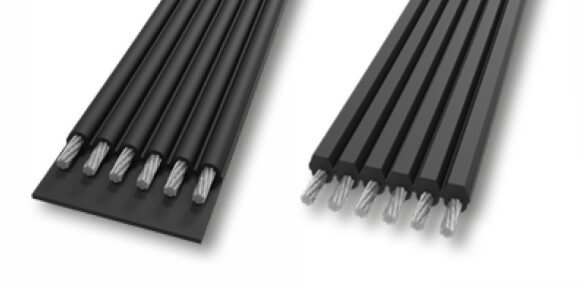 Standard Profile
Version with smooth back surface and guiding over flat outer pulleys.
Double Profile (DP)
Double sided version with grooving on back. It is used for easier guiding of the belt by grooved guide or diverting pulleys. It allows you to reduce the width of the pulleys, reduce the distance between the belts and reduce the overall width of the lift drive.
| Type | Cord | Breaking Value | Nominal Width | Belt Thickness |
| --- | --- | --- | --- | --- |
| POLYROPE F25 | 25-6x2.0 | 30 kN | 24.72 +/-1 mm | 3.7 +/-0.15 mm |
| POLYROPE F25 DP | 25-6x2.0 | 30 kN | 24.72 +/-1 mm | 5.2 +/-0.15 mm |
| POLYROPE F33 | 33-8x2.0 | 40 kN | 33 +/-1 mm | 3.7 +/-0.15 mm |
| POLYROPE F33 DP | 33-8x2.0 | 40 kN | 33 +/-1 mm | 5.2 +/-0.15 mm |
| POLYROPE F50 | 50-12x2.0 | 60 kN | 49.5 +/-1 mm | 3.7 +/-0.15 mm |
| POLYROPE F50 DP | 50-12x2.0 | 60 kN | 49.5 +/-1 mm | 5.2 +/-0.15 mm |
Rope Code Description
Example:
POLYROPE F25 - 45m
POLYROPE F25 DP - 45m
| Code Part | Description |
| --- | --- |
| F | Flap rope POLYROPE |
| 25 | Rope width in mm |
| DP | Rope design - Double Profile |
| 45m | Rope length in m |
Documents for Download
Manufacturer Profile
Continental is the world's largest specialist for rubber and plastics technology in the non-tire rubber sector. A division of Continental AG, the company develops and produces functional parts, components and systems for the automotive and other important industries.
ContiTech importance on immediate proximity to customers. ContiTech is active in 26 countries with 75 production sites and more than 40 R&D facilities and sales organizations. The customers around the world stand to profit: Greater safety. Higher efficiency. Closer proximity.
TYMA CZ, s.r.o., is the official distributor of Continental ContiTech Power Transmission Group.