Traction and Deflection Pulleys for POLYROPE and POLYFLAT Belts
Traction and deflection pulleys (for POLYROPE, POLYFLAT) are special guide, deflection and traction pulleys. Depending on the belt type, they may be smooth or grooved, with grooves corresponding to the profile of the flat belt. The pulley design must comply with the belt type and the manufacturer's recommendations or the relevant standards and certificates.
Pulleys Construction
Pulley
Bearing
Retaining ring
Pulleys Fields of Use
Traction and deflection pulleys for POLYROPE, POLYFLAT are used in elevators and lifting systems.
They are available in various widths according to the respective flat belt.
Pulley Types and Parameters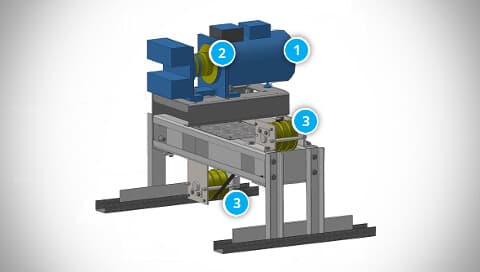 Elevators pulleys are divided into traction and deflection pulleys. Their application is illustrated in the folowing picture.
Drive unit
Traction pulley
Deflection pulleys
Traction Pulley
| | |
| --- | --- |
| Parameter | Description |
| Effective Pulley Diameter | > 100 mm (centre - centre of rope) |
| Groove Shape | Semicircular radius 1.9 mm |
| Groove Material | Steel, preferably 42CrMo4 |
| Groove Surface | Hardened to 55-62 HRC or CrNi hard surface coating; Roughness Ra 1,6 - 3,2 μm |
Deflection Pulley
| | |
| --- | --- |
| Parameter | Description |
| Pulley Diameter | > 100 mm |
| Pulley Shape | Convex radius 500 mm (running over flat side) or grooved identical to traction pulley (running over grooved side) |
| Pulley Material | Steel or PA |
| Pulley Surface | Roughness Ra max. 5 μm, preferably with low friction properties |
Pulley Code Description
Example:
POLYROPE F25x4 (D = 115 mm) - Grooved
| Code Part | Description |
| --- | --- |
| POLYROPE | Type of belt |
| F | Flat belt |
| 25 | Width in mm |
| 4 | Number of grooves (number of belts) |
| D = 115 mm | Pulley diameter |
| Grooved | Pulley surface - smooth or grooved |