CONTI POLYFLAT Flat Belts
CONTI POLYFLAT belts are open-ended polyurethane flat belts. They are made of thermoplastic polyurethane and reinforced by steel tension member, in special cases by aramid or stainless steel tension member.
The belts have very high tensile strenght, excellent flexibility and wear resistance. They can be used with significantly smaller pulley diameters compared to steel ropes. Smaller pulleys make it possible to use smaller geared motors and create compact drive configurations with low inertia. This reduces production costs and energy.
The belts are available in various types and widths, in whole rolls or in lengths according to customer requirements.
Products are sorted by name in ascending order.
Products are sorted by name in ascending order.
Belts Construction
Polyurethane pulley side
Steel cord tension member
Polyurethane backing
Belts Fields of Use
CONTI POLYFLAT flat belts are designed for lifting systems in industrial applications.
They are particularly used with elevators, lifting systems, forklifts, car wash installations, scissor-lift tables or automatic door and gate systems.
Belts Characteristics
High transmission power and long service life
Oil- , Grease-, Fuel-, Benzene-, UV- and Ozone-resistant, suitable for tropical climates
Wear-resistant, maintenance free
Temperature range from −30 °C to +80 °C (please request technical advice for temperatures below −10 °C and above +50 °C)
Belts Code Description
Example:
POLYFLAT F50 XHP
| Code Part | Description |
| --- | --- |
| F | Flat belt |
| 50 | Belt width in mm |
| XHP | |
Belt Type
| Type | Description |
| --- | --- |
| HP | Reinforced with high tensile strength |
| XHP | Very high tensile strength |
| XHP II | Highest tensile strength |
| HS | High stiffness |
| XHS | Very high stiffness |
| XHS II | Highest stiffness |
| HF | High flexibility |
| HP-Niro | Stainless steel tension fibers |
| Aramid | Aramid tension fibers |
Documents for Download
TYMA CZ Data Sheets
Czech and English (PDF 242.31 kB)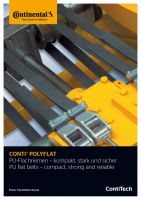 ContiTech Product Overview
English and German (PDF 1.63 MB)
Manufacturer Profile
Continental is the world's largest specialist for rubber and plastics technology in the non-tire rubber sector. A division of Continental AG, the company develops and produces functional parts, components and systems for the automotive and other important industries.
ContiTech importance on immediate proximity to customers. ContiTech is active in 26 countries with 75 production sites and more than 40 R&D facilities and sales organizations. The customers around the world stand to profit: Greater safety. Higher efficiency. Closer proximity.
TYMA CZ, s.r.o., is the official distributor of Continental ContiTech Power Transmission Group.