Symmetrical Berges Pulleys with Variable Speed Adjustment
Symmetrical variator pulleys are used to smoothly change the revolutions using a V-belt or variator - wide V-belt. It is made of aluminum alloy.
These are special pulleys with which it is possible to change the width setting and thus also the position of the belt. The result is a transmission with a smooth change of revolutions and gear ratio without the need to stop the transmission. Control of the width of the drive pulley, and thus the changes in speed, can be mechanical, hydraulic or electronic.
Basic types are intended for standard sizes of variator belts.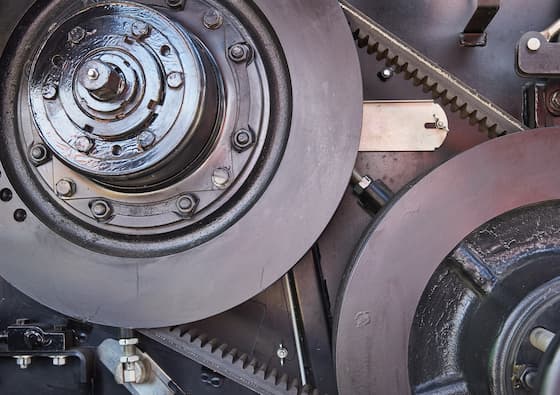 Pulleys Construction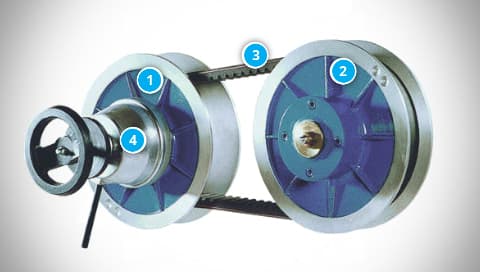 Drive pulley
Spring pulley
Belt
Speed adjustment device
Pulleys Fields of Use
Symetrical variable speed pulleys are designed for drives with infinitely variable speed adjustment that are driven by a variable speed belt or a V-belt.
The variable speed pulleys cover a power range of 0.25 to 160 kW.
They are typically used in machines where the speed change is made mechanically, especially in presses, single-purpose machines, agricultural machines and other applications.
Pulleys Material
Aluminium alloy.
Documents for Download
Question about the Pulley Category
Do not hesitate to contact us with any questions about products in this category.
Manufacturer Profile
Berges is a leading global supplier of a wide range of variable speed pulleys covering power range of 0.25 to 200 kW. In addition to variable speed pulleys, the company also supplies remote controls and accessories of variable speed drives, complete variable speed transmissions, friction wheels, etc.
Berges acquired theasymmetrical BECKER pulley technologyin 2003 and made itself world's unique specialist in the construction of symmetrical and asymmetrical pulleys.
TYMA CZ is an authorized regional distributor of Berges.