ESCODISC DMUCC Series Couplings
ESCODISC DMUCC series couplings are all-metal torsionally rigid, backlash-free and maintenance-free shaft couplings. Torque is transmitted by high-strength stainless steel discs.
Couplings Description
ESCODISC DMUCC series couplings are of an all-metal, non-lubricated design and are torsionally stiff. The torque is transmitted by means of discs, which are alternatively mounted (on the same bolt circle) to the drive and driven flange of the disc pack assembly.
Disc couplings will in most cases have two flexible elements and a spacer. As all parts are positively connected, this disc coupling ensures good inherent balancing properties and is hence often used at motor speeds without additional balancing.
The ESCODISC DMUCC series has a close coupled design with a split spacer. Its high torque, bore and its misalignment capacity makes it an ideal maintenance-free alternative for close coupled gear and elastic type couplings and can be modified in such a way that replacement of gear and elastic couplings is possible without modifications to an existing installation. Its split spacer design allows a disconnection of two machines and replacement of the disc pack without any axial displacement of the connected machines.
The total torque capacity and misalignment capacity depend on the disc pack thickness, the disc material, the amount of drive bolts and the free span of the material between the drive bolts. The ESCODISC couplings meet the API 610 standards.
The ESCODISC DMUCC series is the ideal solution for applications up to 29,600 Nm (and larger upon request) with its high degree of natural inherent balance up to size 85.
Its split spacer design allows a disconnection of two machines and replacement of the disc pack without any axial displacement of the connected machines.
The couplings are able to compensate for radial, angular and axial misalignments.
Couplings Construction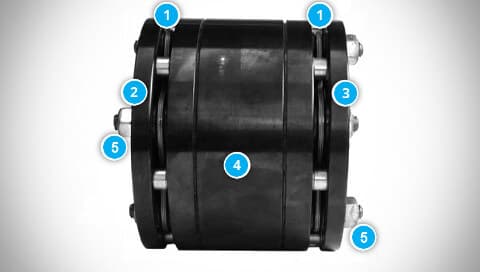 Set of stainless steel discs with a special surface treatment
Left hub
Right hub
Spacer
High strength bolts
Couplings Fields of Use
ESCODISC DMUCC series shaft couplings are designed to transmit the highest torques in all industries.
They are used mainly in the drives of compressors, pumps, conveyors, presses, test benches and drives in the chemical, petrochemical, pharmaceutical and food industries.
The disc couplings are available in various series and designs.
Couplings Advantages
Unitized disc pack that can be replaced on site
Easy assembly and disassembly
Discs with an optimized shape unitized as a pack
Fillers avoiding contact between discs hence no fretting corrosion
Coasting down torque transmission guaranteeing in case of disc pack failure
Documents for Download
Question about the Couplings Category
Do not hesitate to contact us with any questions about products in this category.
We also provide design and calculation of transmission components, including shaft couplings. In the case of your interest in this service, use the detailed Transmission Drive Design Form.
Shaft Coupling Manufacturer Profile
By developing, designing and manufacturing gear and disc types couplings for the entire industrial market, ESCO Couplings has become a leader of the world's major manufacturer of couplings and is known and recognized by his peers as a specialist in top quality couplings.
ESCO is a family owned and run business specialized in designing, manufacturing, selling and distributing power transmission products and services. ESCO operates in multiple European countries, in China and in India through wholly owned subsidiaries. The group can further rely on a tight-knit network of distributors who promote our brand in more than 25 countries around the world.