Freewheels (One-Way Bearings)
Freewheels (also freewheel clutches, one-way bearings) are devices that transmit torque in only one direction. They rotate freely in the opposite direction and do not transmit any forces. The rotation in the desired direction is given by a special construction, where the freewheel elements change their position so that they engage and create a connection between the inner and outer ring, which rotates as one unit.
Depending on the type of freewheel elements, the freewheels can be roller, needle or with specially shaped freewheel segments for higher loads.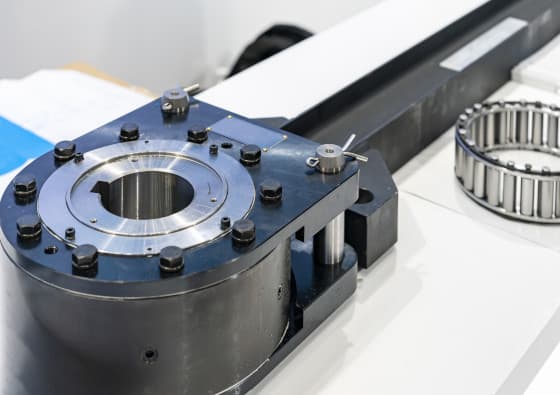 Basic Range of Freewheels
Freewheels and one-way bearings
Blocking and leading freewheels
Sliding and switching freewheels
Separate freewheel elements, freewheel cages
Freewheels with needle bearings and special freewheels to order
Freewheels Construction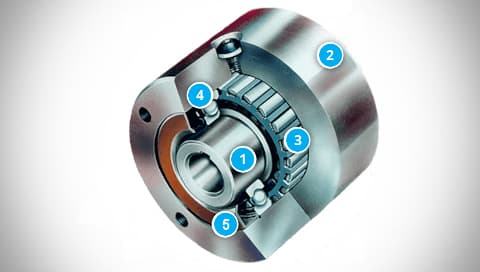 Inner ring
Outer ring
Freewheel
Rolling bearing
Seal
Freewheels Types Overview
| Freewheel Type | Description | Illustration |
| --- | --- | --- |
| K, KN | K and KN freewheels with ball bearings are integrated into ball bearings with dimensions and characteristics of series 62. They are filled with grease for the entire service life and can be installed inside or outside the housings. They are manufactured in versions with coverage, with or without keyway K..-2RS, or KN..-2RS). | |
| US, USNU, UF | US, USNU, UF freewheels are not self-centering. They are placed inside closed housings (gears, caps, etc.) next to existing bearings. The external and internal components must run perfectly centered and must not be axially loaded or pretensioned. The lubricant supply must be guaranteed. | |
| GF | GF freewheels are mounted in bearings: sizes 8–20 with plain bearings, sizes 25–60 with ball bearings. They are usually mounted inside closed housings. The lubricant supply must be guaranteed. | |
| GV | GV freewheels are mounted in plain bearings filled with grease for the entire service life. They are installed as a backstop or as switching elements outside the input or output shafts, where the lever arm welded to the external components absorbs torque. | |
| GL, GLP | GL and GLP freewheels are mounted in ball bearings. These freewheels, together with the wide range of flanges, covers and elastic couplings that can be supplied, provide complete units with their own lubricant circulation. They are usually located outside the housing, e.g. in sprockets or pulleys, at the end of the shafts. | |
| HF, HFL | HF and HFL needle freewheels are manufactured with or without internal bearing. HF type corresponds to the dimensions of needle roller bearings of the HK series. They have an outer ring made of steel sheet. | |
Separate Freewheel Elements and Cages
Separate freewheel elements and cages can be supplied separately as spare parts or elements for freewheel construction.
Special Freewheels and Building Components
We are happy to make special constructions specific to a particular application according the demand, drawing or description of the problem.
Documents for Download
Question about the Freewheels Category
Do not hesitate to contact us with any questions about products in this category.