EAGLE 8M Timing Pulleys for SILENTSYNC Belts
EAGLE 8M timing pulleys are the basic type of pulleys for CONTI SILENTSYNC belts with helical offset teeth in H.O.T. 8M. They are made of steel, ductile iron, gray cast iron or aluminum alloy with a pilot bore or for fixing with Taper Lock bushes.
They enable to design unique drives for transmission of the highest power and speed with reduced noise. The belts used are self-guiding and do not need to be guided by flanges or in another way.
Products are sorted by name in ascending order.
Products are sorted by name in ascending order.
Pulleys Fields of Use
The EAGLE timing pulleys are designed for CONTI SILENTSYNC belts.
They are typically used in high-speed machine tools, fans, textile machines and many other machines.
Pulleys Material
Steel, grey cast or ductile iron, aluminum alloy.
Other materials to order.
| Parameter | Standard |
| --- | --- |
| Surface roughness | ISO 254 |
| Balance quality grade | VDI 2060, ISO 1940 |
Caution
Cast iron pulleys at v < 30 m/s must be balanced.
Pulleys Code Description
Example:
EAGLE W-22S-MPB (8M-32) CONTI SILENTSYNC
| Code Part | Description |
| --- | --- |
| EAGLE | Type of pulley |
| W | Belt profile |
| 22 | Number of pulley teeth |
| MPB | Minimum plain bore |
| 8M | Pitch of teeth in mm |
| 32 | Width of belt in mm |
| CONTI SILENTSYNC | Type of belt |
Documents for Download
TYMA CZ Data Sheets
Czech and English (PDF 360.07 kB)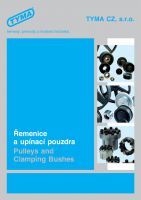 TYMA CZ Catalogue
Czech and English (PDF 3.64 MB)
Manufacturer Profile
The group SIT S.p.A develops, engineers, manufactures and distributes high quality solutions and components for power transmission for industrial applications of excellence worldwide, with the aim of increasing the productivity of its customers' machines and systems. With operations on 3 continents, SIT manufactures pulleys, rubber and polyurethane belts, drive couplings, locking assemblies and a wide range of accessories.
SIT belongs to a large industrial group that dates as far back as 1838. Today, thanks to over 50 years of specific experience in power transmission and a close-knit team of highly qualified professionals, the Group engages in constant technological innovation in order to offer the best application solutions in mechanical power drives.