Round Open-Ended Belts
Polyurethane or polyester round open-ended belts are manufactured for welding as conveyor and drive belts of any length.
Belts have a circular cross-section with different outside diameter sizes. They are made of highly resistant BEHA plastic and, in some types, are reinforced with polyester, glass or aramid tensile fibers. They are characterized by high strength, long service life, high temperature and chemical resistance.
Belts Construction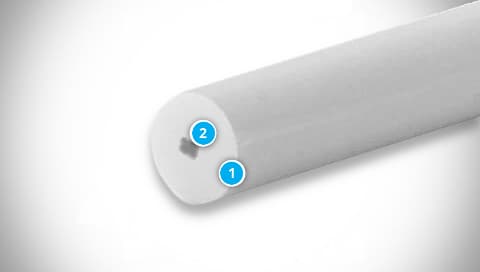 Polyurethane or polyester

Tension member
Belts Fields of Use
Belts are used as conveyor or drive belts in many industries, especially for light and medium loads.
The most common applications are as conveyor belts in the glass, ceramic or food industry, but also in logistics and on packaging machines, in printers and in the paper industry or in the production of building materials.
Belts Characteristics
High tensile strength and abrasion resistance
Excellent weldability, possibility of joining the piece
Resistance to oils, greases, pollution and chemicals
Temperature resistance from −30 °C to +80 °C
Can be used in the food industry
Belts Material
Polyurethane or polyester. In some types, reinforced with polyester, glass or aramid tensile fibers.
Belts Code Description
Example:
PU85A 6.0 - Smooth Reinforced (88 ShA, Polyester Cord, Sapphire Blue) - 50m Roll
| Code Part | Description |
| --- | --- |
| PU85A | BEHAbelt material name (PU = polyurethane, the number does not correspond to the designation of the Shore A hardness test) |
| 6.0 | Belt diameter in mm |
| Smooth | Material surface |
| Reinforced | Belt version |
| 88 ShA | Belt hardness according to the Shore A test |
| Polyester Cord | Material of the tensile fiber |
| Sapphire Blue | Belt color |
| 50m Roll | Standard package |
Documents for Download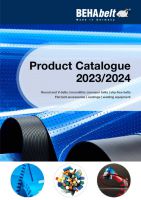 BEHAbelt Catalogue
English (PDF 25.30 MB)
Belt Manufacturer Profile
Beha Innovation GmbH is a German company based in Glottertal, Germany. They extrude a complete line of the highest quality Polyurethane and Polyester profiles and conveyor belts for transport and drive applications.
True to the motto "smart conveying", BEHA has been supplying innovative drive and conveying technology products since 1974. They provide quick and accurate service through their worldwide distribution network.