Sliding Guides for Round Belts (R Type)
Sliding round belt guides (R type) are standard sliding guides fixed separately directly on the machines. They reduce noise, friction and stress on the machine, as well as requirements for lubricants. They reduce the stress on the round belt and increase its service life.
The sliding belt guides are made of a special highly resistant plastic.
Products are sorted by name in ascending order.
Products are sorted by name in ascending order.
Belt Guides Construction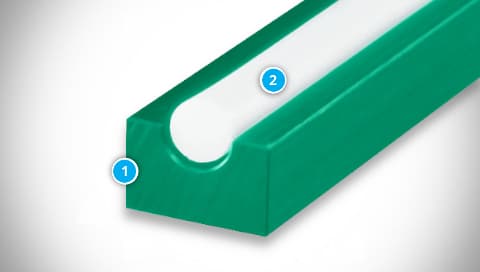 Open belt guide
Round belt
Belt Guides Fields of Use
Sliding belt guides for separate mounting are intended for all types of round belts.
They are most often used for conveyors in the glass, food, woodworking, ceramic industries, sorting and distribution centers, airports or the automotive industry, etc.
Belt Guides Material
Special highly resistant PE-1000 plastic, standard in green design.
PE-1000 (PE-UHMW) is a polyethylene with very high molecular weight used in applications requiring a low coefficient of friction as well as extremely high durability, abrasion resistance, high impact strength and resistance to chemicals. It is characterized by very good machinability and is a suitable material for the production of sliding friction guides.
Belt Guide Code Description
Example:
R (5 mm) - 15 × 10 mm (PE-1000, L = 2000 mm)
| Code Part | Description |
| --- | --- |
| R | Belt guide type |
| 5 | Round belt diameter in mm |
| 15 × 10 mm | Basic dimensions b × h (width × height) |
| PE-1000 | Guide material |
| L = 2000 mm | Standard guide length |
Documents for Download
TYMA CZ Data Sheets
Czech and English (PDF 124.51 kB)