Tighteners Elements
Tighteners elements are the basis for automatic tensioners for tensioning of chains or belts during operation.
They consist of a lever that is flexibly mounted between two squares and attached to the base of the machine. The elastic part consists of rubber elastic segments. The tensioning pulleys of the chains or belts are attached to the lever with a screw.
It is a universal flexible element that can simultaneously perform the functions of suspension, guidance, tensioning and damping.
Threaded tighteners elements for rear mounting.

Tighteners elements with central screw for external mounting.

Tensioner mounting supports are standard L-shaped mounting elements that are used to attach an automatic tensioner for tensioning of chains or belts to the machine.
Tighteners Elements Fields of Use
Tighteners elements are designed for tensioning of common industrial roller chains or belts in all industries.
Typical application is small and medium-sized roller chains – for conveyors, roller conveyors, handling equipment, construction machinery, in the woodworking industry, packaging machines or in the food industry.
Tighteners Elements Characteristics
They perform damping, guiding and tensioning function
Simple construction, easy installation
They extend service life and reduce wear
They reduce vibration and transmission noise
Operating temperatures from −40 °C to +80 °C
Maintenance-free design
Tighteners Elements Material
Steel.
Tighteners Elements Code Description
Example:
RE 60
| Code Part | Description |
| --- | --- |
| RE | Type of tensioner |
| 60 | Size |
Notice
When ordering a complete chain or belt tensioner, always order the FE or RE tighteners element and the corresponding tension element. For chains it is ZK or OVR, for belts it is RP or RU.
Documents for Download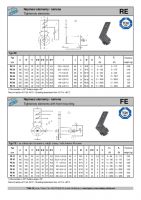 TYMA CZ Data Sheets
Czech and English (PDF 410.26 kB)
TYMA CZ Catalogue
Czech and English (PDF 3.77 MB)