RU Tensioning Rollers with Screw
RU tensioning rollers with screw are part of the tensioner for tensioning of the belts during operation.
These elements consist of a steel roller with a bearing and a fastening screw. It is attached to the lever of the universal tensioner with a screw.
It is a universal flexible element that can simultaneously perform the functions of suspension, guidance, tensioning and damping.
Products are sorted by name in ascending order.
Products are sorted by name in ascending order.
Tensioning Rollers Construction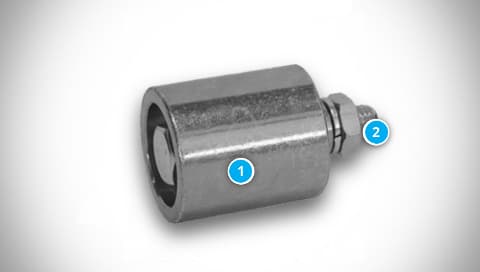 Pulley with bearings
Fixing screw with nut and washer
Tensioning Rollers Fields of Use
RU (tensioning rollers with screw) are designed for tensioning of belts in all industries.
Typical application is for smaller belts – for conveyors, roller conveyors, handling equipment, construction machinery, in the woodworking industry, packaging machines or in the food industry.
Tensioning Rollers Characteristics
They perform damping, guiding and tensioning function
Simple construction, easy installation
They extend service life and reduce wear
They reduce vibration and transmission noise
Operating temperatures from −40 °C to +80 °C
Maintenance-free design
Tensioning Rollers Material
Steel roller with bearings with lubrication.
Tensioning Rollers Code Description
Example:
RU 4
| Code Part | Description |
| --- | --- |
| RU | Type of tensioning roller |
| 4 | Size |
Notice
The tensioning arm is not included and must be ordered separately.
When ordering a complete belt tensioner, always order the FE or RE tighteners element and the corresponding tension element. For belts it is RP or RU.
Documents for Download
TYMA CZ Data Sheets
Czech and English (PDF 147.51 kB)
TYMA CZ Catalogue
Czech and English (PDF 3.77 MB)