RX Elastic Couplings
RX are torsionally flexible, puncture-proof shaft couplings with two metal hubs with front claws and a polyurethane element. They transmit torque through pressure-stressed elastic star-shaped buffer which absorbs shock and torsional vibration. This element is oil resistant and electrically conductive. RX coupling hubs are made of steel, grey cast iron or aluminium alloy as unbored, with a pilot bore or for fixing with Taper Lock bushes.
RX couplings can be used for both directions of rotation and each mounting position.
RX coupling components of various sizes
Couplings Construction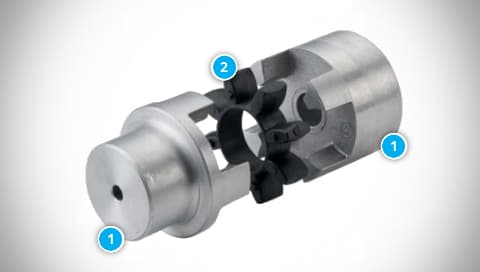 Hubs
Elastic spider
Couplings Fields of Use
RX flexible couplings are designed for the highest requirements in a wide range of industries, especially for compressors, pumps, conveyors, construction machinery and many other machines. They are available in two-piece aluminum, cast iron and steel design.
Couplings Characteristics
High-quality spider design
Handles the most demanding applications
Operating temperatures from −40 °C to +90 °C, allowing for short peaks up to 120 °C
Wide range of sizes. Allows for different bore diameters
Simple assembly without the need to modify the bore (applies to versions with Taper Lock bushings)
No backlash. Easy assembly. No maintenance.
Documents for Download
TYMA CZ Data Sheets
Czech and English (PDF 506.87 kB)

We also provide design and calculation of transmission components, including shaft couplings. In the case of your interest in this service, use the detailed Transmission Drive Design Form.