Conveyor Chains
Conveyor chains are used to transport material and to move products along an assembly line or production facility. The most common type are bush conveyor chains, where the inner links are placed on a bush that forms a chain link with the chain pin of the outer link. The large joint area reduces friction and wear.
Casing conveyor chains are the most commonly used conveyor chains. The connection with other parts is made by so-called chain conveyors. These conveyors can be in a single or dual chain configuration.
Chains Construction
Inner plate
Outer plate
Pin
Bush
Roller
Chains Fields of Use
Conveyor chains are mainly used to transport heavy piece loads, e.g. pallets, grid boxes and industrial containers, or to transport material in many industries.
They are therefore used, for example, in wood processing, paper, building materials, steel mills, power plants, glass plants, chemical industry, recycling, automotive industry, heavy engineering etc.
Chains Material
Steel, stainless steel in special cases.
Chains Types Overview
Chain Type & Standard

Description

Illustration

FV

DIN 8165

M

DIN 8167

Conveyor Chains with Solid Pins

Basic conveyor chains are generally used in the paper, woodworking or automotive industries, in steel mills and transport facilities.

FVT

DIN 8165

MT

DIN 8167

Conveyor Deep-Link Chains with Solid Pins

Conveyor chains, e.g. for transport of pallets, boxes, containers or material.

DIN 8165/8167

Redler Conveyor Chains

They are used for transport of coal, coke, fly ash, sand, grain and other bulk materials.

FVC

DIN 8165

MC

DIN 8168

Conveyor Chains with Hollow Pins

They are used for transport of metal and wood chips, wood, pallets, in the automotive industry and other applications.

The hole in the pin serves as an attachment point for screws or rods.

F200–800

DIN 8175

Reinforced Conveyor Chains with Attachments

They are intended for transport of heavy objects in ironworks, woodworking or the automotive industry.
Chains Code Description
Example:
FV 40 - 63
| Code Part | Description |
| --- | --- |
| FV 40 | Type of chain |
| 63 | Chain pitch in mm (with A type pulleys) |
Documents for Download
KettenWulf Catalogue
English (PDF 6.39 MB)
KettenWulf Catalogue
English (PDF 5.12 MB)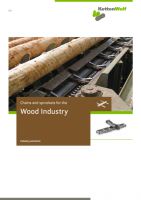 KettenWulf Catalogue
English (PDF 2.49 MB)
Question about the Chain Category
Do not hesitate to contact us with any questions about products in this category.
Manufacturer Profile
KettenWulf was founded in 1925 in Kückelheim, Germany. Over the past 90 years, the company has developed from a small-sized factory for sprocket chains into a leading global manufacturer of conveyor chains, drive chains and sprockets.
More than 1400 employees develop, produce and distribute individual solutions in conveying and drive technology for KettenWulf at ten locations in Europe, America and Asia.
The high quality KettenWulf products are used all over the globe in a wide range of industries.