ESCOGEAR F Series Couplings
The ESCOGEAR F series couplings are all-metal torsionally rigid ESCOGEAR gear couplings with a two-piece body. The couplings enable the transmission of the highest torques with small installation dimensions.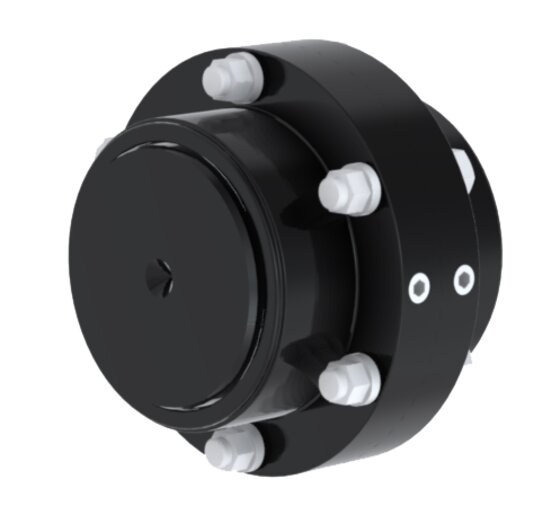 Couplings Description
The ESCOGEAR F series coupling is a torsionally rigid grease filled coupling consisting of two hubs with external Multicrown - and two flanged sleeves with straight internal teeth. The flanged sleeves are bolted together with high strength corrosion protected fitted bolts and nuts. The sleeve is at the opposite side of the flange executed with an endcap (internal for small and screwed for big size couplings) in which the o-ring is located for sealing purposes.
The special Multicrown gear shape allows only a small backlash and allows smooth running over the entire speed and torque range. Grease lubrication ensures low maintenance and at the same time allows relatively large shaft misalignment.
The teeth of hub and sleeve are continuously in contact with each other and have been designed with the necessary backlash to accommodate angular-, parallel- and axial misalignment within their misalignment capacity. The angular and parallel misalignment capacity is determined by the gear tooth design and is for the standard ESCOGEAR max. 1.5° (2 × 0.75°) in total. The axial misalignment capacity is limited by the gear teeth length in the sleeve and can be varied (optionally).
The couplings are manufactured for horizontal and vertical applications.
Couplings Construction
Two-piece outer flanged sleeve with internal Multicrown teeth
Left hub with external teeth
Right hub with external teeth
Special high strength bolts
Seal in outer sleeve (o-rings)
Couplings Fields of Use
ESCOGEAR F Series shaft couplings are designed to transmit the highest torques in all industries.
They are used mainly in the drives of conveyor systems, rolling mills, mixers, cranes and other demanding drives in steel mills, in the paper, chemical and rubber industries.
The unique modular system offers maximum flexibility in assembling various configurations, including suitable accessories such as brake discs or drums, etc. The couplings are available in various sizes and designs.
Couplings Material
Gear couplings are generally made from carbon steel Ck45 (AISI 1040). For higher torque capacities, within the same coupling dimensions, a higher alloy steel like 42CrMo4QT can be used (optionally).
Couplings Advantages
High torque capacity and important angular misalignment allowing the coupling to operate under combined load, speed and misalignment conditions
Easy coupling selection
High bore capacity
Light weight
The highest manufacturing quality and long coupling life guaranteed
A Multicrown gear shape
Perfect homokinetic torque transmission
Reduced backlash
Perfect gear top centering
Zinc coated body fitted flange connection bolts avoiding fretting corrosion in the flange bores
An excellent protection of components
Documents for Download
Question about the Shaft Coupling Category
Do not hesitate to contact us with any questions about products in this category.
We also provide design and calculation of transmission components, including shaft couplings. In the case of your interest in this service, use the detailed Transmission Drive Design Form.
Shaft Coupling Manufacturer Profile
By developing, designing and manufacturing gear and disc types couplings for the entire industrial market, ESCO Couplings has become a leader of the world's major manufacturer of couplings and is known and recognized by his peers as a specialist in top quality couplings.
ESCO is a family owned and run business specialized in designing, manufacturing, selling and distributing power transmission products and services. ESCO operates in multiple European countries, in China and in India through wholly owned subsidiaries. The group can further rely on a tight-knit network of distributors who promote our brand in more than 25 countries around the world.