CONTI SYNCHROCHAIN Timing Belts
CONTI SYNCHROCHAIN timing belts in CTD profile with a special construction and material composition of polyurethane with aramid tensile fibers are designed for the transmission of high power, torque and high dynamic load.
Production of SYNCHROCHAIN ​​Belts with Aramid Fibers Terminated
Within the current ContiTech offer, only CONTI SYNCHROCHAIN ​​CARBON timing belts – with carbon fibers – are intended for the highest transmitted power. The production of previously parallel-produced CONTI SYNCHROCHAIN ​​belts with aramid fibers was terminated in 2021. Now only the stock is being sold out, the new CONTI SYNCHROCHAIN ​​belts from production are no longer available and will no longer be available.
CONTI SYNCHROCHAIN ​​CARBON belts have 30% higher transmitted power, longer service life, minimal preload loss and 50% less elongation than CONTI SYNCHROCHAIN ​​with aramid tension member. They represent the top of the world's most powerful timing belts.
CONTI SYNCHROCHAIN®

Tooth pitch (mm): 8.0

Length range Lp (mm): 640 - 4480

CONTI SYNCHROCHAIN®

Tooth pitch (mm): 14.0

Length range Lp (mm): 994 - 4410
Construction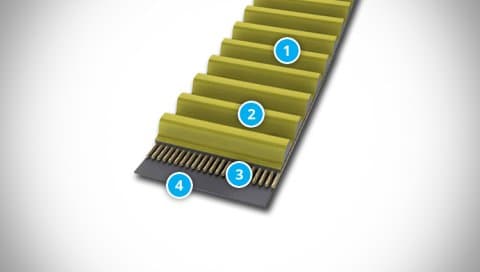 Specially treated fabric
Polyurethane teeth
Aramid cord tension member with S/Z twists wound in pairs
Polyurethane backing
Fields of Use
The CONTI SYNCHROCHAIN® timing belts have been developed for extreme applications where large power outputs, high torques and high speeds have to be reliably transmitted or high dynamic stressing is in use. There is virtually no limit to the application possibilities.
Thanks to the resitance to dampness, aggressive cleansing agents and temperature fluctuations, the belts lend themselves to use in the food and packing industry, in mines, ports, conveyor systems and in general drive applications all the way through to go-carts.
Characteristics
High transmission power and long life
Oil-resistant
Ozone-resistant
Temperature range, depending on application, from −55 °C to +80 °C
High dynamic resistance up to 40 m/s
High abrasion resistance
Maintenace-free
Suitable for reverse flexing
Belts Code Description
Example:
CTD 8M-1200-62 CONTI SYNCHROCHAIN
| Code Part | Description |
| --- | --- |
| CTD | Profile |
| 8M | Tooth pitch in mm |
| 1200 | Belt length in mm |
| 62 | Belt width in mm |
| CONTI SYNCHROCHAIN | Type of belt |
Caution
For CONTI SYNCHROCHAIN® timing belts can be used standard timing pulleys with profiles CTD, PC-GT or Falcon.
Documents for Download
Manufacturer Profile
Continental is the world's largest specialist for rubber and plastics technology in the non-tire rubber sector. A division of Continental AG, the company develops and produces functional parts, components and systems for the automotive and other important industries.
ContiTech importance on immediate proximity to customers. ContiTech is active in 26 countries with 75 production sites and more than 40 R&D facilities and sales organizations. The customers around the world stand to profit: Greater safety. Higher efficiency. Closer proximity.
TYMA CZ, s.r.o., is the official distributor of Continental ContiTech Power Transmission Group.