AT5 Pilot Bore Timing Pulleys for Polyurethane Belts
AT5 timing pulleys are the basic type of pulleys for polyurethane belts with a trapezoidal AT5 profile. They are made from aluminium alloy as unbored or with a pre-drilled hole.
The pulleys are supplied as a semi-finished product and the bore must be modified before mounting the pulleys on the shafts.
Products are sorted by name in ascending order.
Products are sorted by name in ascending order.
Pulleys Fields of Use
The AT5 timing pulleys are designed for all types of AT5 polyurethane belts with pitch 5.0 mm.
They are typically used in machine tools, packaging machines, printers, single-purpose machines, in the food, paper and glass industry and many other industries.
Pulleys Material
Aluminum alloy.
Other materials to order.
The design for Taper Lock housings must be custom made, aluminum alloy must not be used, but steel must be used.
| Parameter | Standard |
| --- | --- |
| Surface roughness | ISO 254 |
| Balance quality grade | VDI 2060, ISO 1940 |
Pulleys Code Description
Example:
21 AT5/24-2 (Type 6F, Al Alloy)
| Code Part | Description |
| --- | --- |
| 21 | Total width of pulley in mm (for 10AT5 belts - belt width of 10 mm) |
| AT5 | Profile |
| 24 | Number of pulley teeth |
| 2 | Number of side rails |
| 6F | Type of construction |
| Al Alloy | Pulley material |
Notice
The catalog data sheets serve only as a recommendation for the types and dimensions of aluminum alloy pulleys for standard widths and numbers of teeth.
Timing pulleys in the AT versions can also be made to order in the "SE" reduced backlash version and the "0 backlash" / "0-Lücke" version with zero backlash.
Documents for Download
TYMA CZ Data Sheets
Czech and English (PDF 105.49 kB)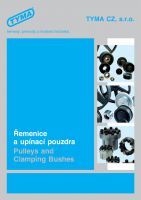 TYMA CZ Catalogue
Czech and English (PDF 3.64 MB)