HTD Polyurethane Open-Ended Timing Belts
Polyurethane open-ended timing belts in HTD profile are made of thermoplastic polyurethane, which has high dimensional stability and wear resistance, and steel tensile fiber, in special cases aramid or stainless steel.
The open-ended belts can be welded into endless belts.
Belts Construction
Polyurethane teeth
Steel cord tension member
Polyurethane backing
Belts Fields of Use
Polyurethane timing belts are used in all areas, from miniature drives, high-precision positioning and sorting mechanisms, small handheld machines to high-performance drives for building and woodworking machines.
Belts Characteristics
High transmission power and long life
Resistant to oil, fuel, benzol, UV radiation and ozone
Wear-resistant
Temperature range, depending on application, from −30 °C to + 80 °C
Maintenance-free
Belts Code Description
Example:
HTD 14M - 115 XHP PAZ CONTI SYNCHRODRIVE (Black)
| Code Part | Description |
| --- | --- |
| HTD | Profile |
| 14M | Tooth pitch in mm |
| 115 | Belt width in mm |
| XHP | |
| PAZ | |
| CONTI SYNCHRODRIVE | Belt type |
| Black | Belt color |
Belts Versions
| Type | Description |
| --- | --- |
| HP | High power tensile-strength |
| XHP | Very high power tensile-strength |
| XHPII | Extremely high power tensile-strength |
| HS | High stiffness of tension member |
| HSII | Very high stiffness of tension member |
| HF | High flexibility |
| HP-Niro | Stainless steel tension fibers |
| Aramid | Aramid tension fibers |
Optional Belt Surface Layers
The choice of the surface layer depends on the type of machine, the ambient temperature, the size of the pulleys, etc. Specifying the surface layer is determined by the material and the thickness of the layer.
Layer Name
Material
Layer Illustration
PAZ (NFT) - nylon fabric on teeth
Low coefficient of friction
Nylon
PAR (NFB) - nylon fabric on back
Surface protection
Nylon
PAZ + PAR (NFT + NFB) - fabric on teeth and back
Low coefficient of friction and surface protection
Nylon
The fabric on teeth and back can be combined with all other layers. A complete range of belt surface layers
Belts Colors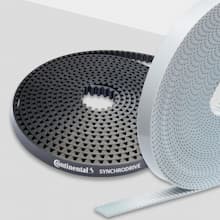 The most common color of open-ended polyurethane belts with steel tension member is white. ContiTech also offers these belts in black.
Basic HP belts have the same characteristics as white belts. The color is the only difference. Black color is required for some applications due to its design or greater light fastness. White color changes over time - it turns yellow. In addition, any spots are more noticeable on white.
Reinforced types XHP, XHPII, HS and HSII are mostly produced by ContiTech only in black.
Documents for Download