Endless Woven Belts
Endless woven belts are belts without any joint. They are therefore a suitable solution for applications with a requirement for greater belt strength, higher moisture absorption or extreme accuracy.
The bases of belts consist of fabrics, which can be made of many natural and synthetic fibres such as cotton, linen, polyamide, polyester and aramid. A whole range of materials and profiles can be coated on the belts. The result is a high-quality belt made exactly for your purpose of use.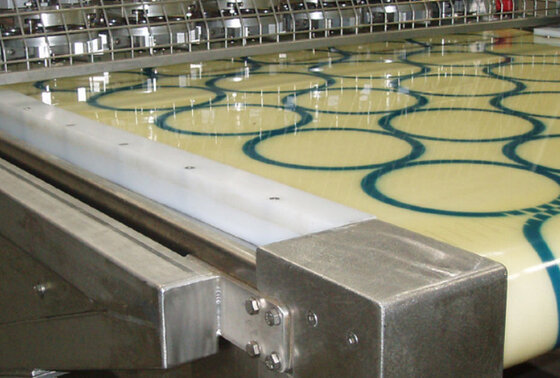 Main Types of Belts
Standard series of endless woven belts:
AMDOUGH

High quality and very powerful belts with a long service life for pressing biscuits.

AMSQUEEZE

AMSQUEEZE belts for soft material separators are used in the food industry in meat cutting and processing.

AMWRAP

AMWRAP belts are used in winding machines in the metalworking industry (especially steel and aluminum) for the production of sheet metal rolls of different thicknesses, at different temperatures and with different elasticities.

AMPULL

AMPULL belts are used in the production of cables in the phase when cables are coated with insulation from extruders. AMPULL belts are ready for operation at high speeds and can withstand high pressures.

AMTUBE

AMTUBE belts are designed for tight wrapping of paper around mandrels for the production of paper tubes (used for toilet paper rolls, carpet rolls, in the packaging of the food industry, and also a molds for concrete, etc.).

PERMALINE

PERMALINE belts are used in semi-automatic food processing lines (in pizza sprinkling lines, pastry filling, chocolate dispensing machines, decorating lines, etc.). It is possible to print any graphic design on them. The possibilities are… endless!
Belts Construction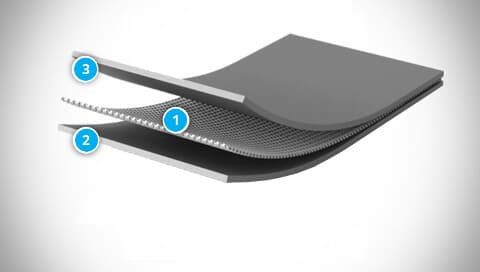 Tensile member
Bottom cover material
Top cover material
Belts Fields of Use
The unique flexibility of the application of endless woven belts is also demonstrated by the fact that they can be handled just as smoothly with both extremely heavy cables and brittle biscuit dough.
They are used mainly in bakeries, chocolate factories, in the production of paper rolls, in packaging machines and many other machines and equipment.
A special group consists of pulling belts for the production of cables, pipes and other materials.
Belts Characteristics
Exceptional strength and low elongation
Operating temperatures: −80 to +350 °C
Tensile strength of the belt up to 450 N/mm
Belt speed up to 20 m/s
Suitable for small cylinder diameters and sharp edges
Wear resistance
High workload
Belts Accessories
Guides
Guide profiles ensure direct belt guidance and prevent belt movement on the rollers. The result is a smooth guidance without a polygon effect, which is also suitable for higher speeds.
Profiles made of PVC, polyurethane or polyester are welded or glued to the bottom side of the conveyor belt.
The V-profile can also be used as a transverse carrier or side edge for transporting material.
The most common way of guiding the belt is a V-guide.
| Profile Type | Description | Illustration |
| --- | --- | --- |
| Full V-Profile | The smooth, clean design of the wedge is less prone to contamination. | |
| Lightweight V-Profile | On the bottom side of the belt there is a wedge with pressed teeth, which allow easier bending and thus smaller cylinder diameters than solid wedges. | |
In addition to the V-profiles, the guide profiles can also be square. However, their use is far from numerous. If you are interested in implementing square guide profiles, please contact us.
Documents for Download
Manufacturer Profile
Founded in 1950, Ammeraal Beltech is a global market leader in the design, manufacturing, fabrication and servicing of high-quality, high-performance process and conveyor belts, available today in 150 countries around the world. You can find their products almost in all industries. They employ over 2,750 people in the business.
They operate 10 manufacturing sites in Europe, the USA, Canada and Asia. They have sales and fabrication centres at over 80 sites worldwide and they have own subsidiaries in more than 25 countries.
Since 2012, our company has been an official distributor.