Clamping Plates for Timing Belts
Clamping plates may be used as a positive attachement of the belt ends in numerous applications.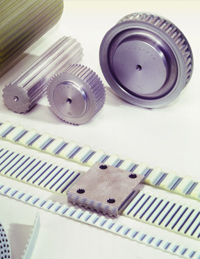 Clamping plates are used especially in linear drives. They must have the correct belt profile, guarantee a uniform clamping force on all the clamped belt surface and must be rigid. For standard applications a minimum of 7 teeth in clamp is recommended. For use with timing belts with special cords (e.g. HPL), a minimum of 12 teeth in clamp is recommended.
Profiles and dimensions:
Application:
- T5, T10 and T20 for belts in metric sizes with T profiles
- AT5, AT10 and AT20 for belts in metric sizes with AT profiles
- XL, L and H for belts in inch sizes
- 5M, 8M and 14M for belts in metric sizes with HTD profiles
Product code:
DESKA T10 - 25
DESKA - clamping plate, T10 - profile, 25 - for belt width 25 mm
Material:
Aluminium alloy AlCuMgPb
Surface roughness: ISO 254
Other materials and profiles on demand.
Except standard clamping plates, there are clamping plates with extended length, clamping plates without pre-drilled holes and semi-finished products for customized clamping plates.
Downloads: