BEHAbelt Weldable Belts in the Eshop
Round, V-shaped and other belt profiles made of highly resistant BEHA polyurethane or polyester intended for welding in conveyor or drive belts of any length.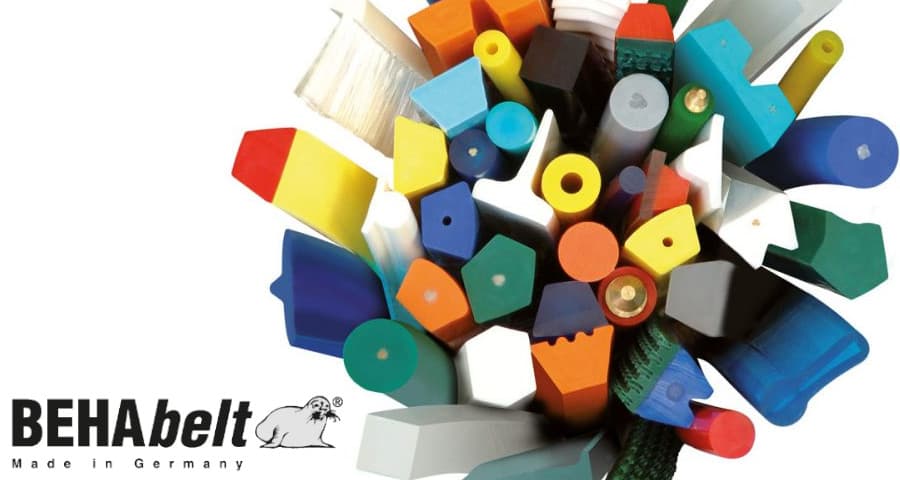 Some types are reinforced with polyester, glass or aramid tensile fibers. They are characterized by high strength, long service life, high temperature and chemical resistance.
Belts are used as conveyor or drive belts in many industries, especially for light and medium loads. The most common applications are as conveyor belts in the glass, ceramic or food industry, but also in logistics and on packaging machines, in printers and in the paper industry or in the production of building materials.
Weldable BEHAbelt Profiles in the TYMA CZ Eshop
Find a clearly structured assortment of round, V-shaped or other profiles in the TYMA CZ Eshop in the V-Belts > Open-Ended > Weldable category.
Plastic BEHAbelt Belts Characteristics
High tensile strength and abrasion resistance
Excellent weldability, possibility of joining the piece
Resistance to oils, greases, pollution and chemicals
Temperature resistance from −30 °C to +80 °C
Can be used in the food industry

BEHAbelt Weldable Profiles in the TYMA CZ Eshop

Eshop category breakdown: