Leaf and Hoisting Chains
Leaf and Hoisting Chains (Fleyer chains) are a special type of chains. They are manufactured according to DIN 8152 both in light-duty and heavy-duty version.
They consist of a row of pins on which plates of adjacent links are put in various combinations along the whole length. The chains can be terminated with suspension plates.
Chains Construction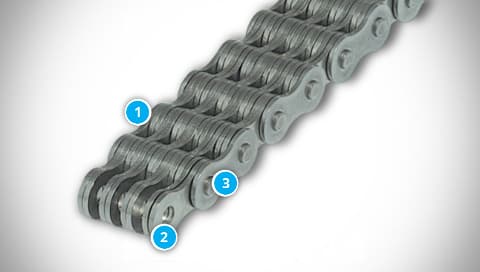 Inner link
Outer link
Pin
Chains Fields of Use
Fleyer chains (leaf and hoisting chains) are designed especially for lifting systems. They are used as tow or load-bearign chains.
They are used in elevators, forklifts, garage doors and in applications where steel wire ropes are not recommended.
Chains Material
Steel.
Chain Code Description
Example:
LL 1066 DIN 8152
| Code Part | Description |
| --- | --- |
| LL | Type of leaf and hoisting chain |
| 10 | Pitch (10/16" = 5/8" = 15.875 mm) |
| 66 | 6 × 6 plate arrangement |
| DIN 8152 | Standard |
Documents for Download
TYMA CZ Catalogue
Czech and English (PDF 3.77 MB)
Question about the Chain Category
Do not hesitate to contact us with any questions about products in this category.