AA2005 Le AA77
Double-Sided V-Belt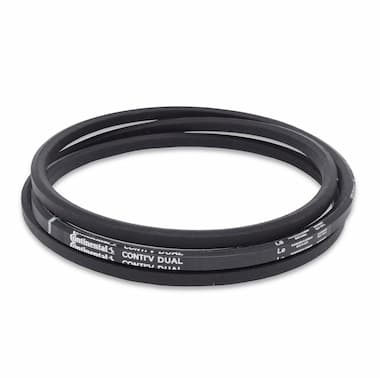 Price for you :
Price without VAT: 56.99€
Price including VAT: 68.96€ with VAT
Catalogue price excluding VAT:
58.14€
In Stock We update the stock availability information every 2 hours.

The goods we have in stock are usually ready for shipping or personal collection no later than the next working day. In case of personal collection, please do not come to pick the goods up before we contact you that the goods are ready.
Belt Parameters
Profile:
AA/13x10
Profile
Multiple belts: profile – no. of ribs. Caution! The number of ribs refers to the number of belt protrusions = the number of teeth on the pulley!
Délka L2 (mm):
1974,00Li
Length L
Li - inside lenght, Ld - pitch length, La - outside length, Le - effective length. Timing belts z = no. of teeth.
Brand:
-
Brand: -
This standardized product may come from different manufacturers. We will provide you with the currently supplied brand upon request.
Material:
Natural Rubber
Material
In the TYMA Product Catalogues you can find this material also described with the abbreviation NR.
Belt Description
AA2005 Le AA77 wrapped double V-Belts to ISO 5289 for operating reverse-rotation drives. The belt's dual-wedge section makes it especially suitable for drives with reverse flexing where both sides of the belt are to be used to transmit power. The symmetrical design of the belt allows the power transmission to be divided on both sides, each side transmits about 50 % of power as the classic V-Belt of the same profile.
Belt Construction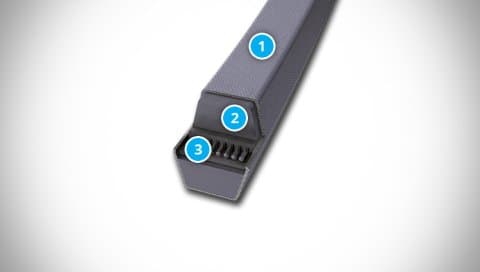 Fabric jacket
Natural rubber
Polyester tension member
Belt Fields of Use
The CONTI V® DUAL double V-Belts have been developed for transmissions with more than two pulleys and for reverse-rotation drives - especially serpentine belt drives and in agricultural machinery.
Typical application fields include garden and agricultural machinery, but also special applications in industrial machinery.
Belt Characteristics
Temperature range from -55 °C to +70 °C
Suitable for reverse flexing/reverse tensioning idlers
Electrically conductive in accordance with ISO 1813
Conditionally resistant to oil
Suitable for tropical climates
Dust-proof
Documents for Download
TYMA CZ Data Sheets
Czech and English (PDF 271.45 kB)
TYMA CZ Catalogue
Czech and English (PDF 4.54 MB)