Sliding Chain Guides
Sliding roller chain guides are made of special highly durable plastic.
They reduce noise, friction, stress and wear of the chain, they reduce the need of lubrication. They increase the service life and durability of the chain.
Chain Guides Construction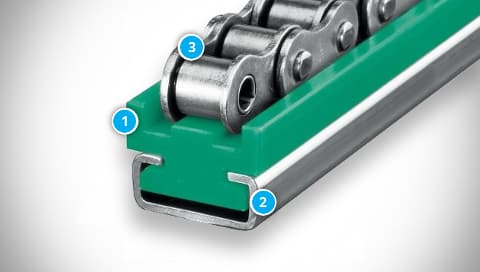 Open chain guide
C-profile - galvanized steel profile in the shape of "C" for mounting on the machine
Single row roller chain
Chain Guides Fields of Use
Sliding chain guides are used in many industries, in the food, woodworking, glass and ceramic industry, conveyors of all kinds, etc.
Chain Guides Characteristics
High wear resistance
Excellent sliding properties, no lubrication required
High chemical and temperature resistance
Vibration damping
No maintenance required, no corrosion
Possibility of use in the food industry
Chain Guides Material
Special highly durable plastic PE-1000 or regenerated material PE-55.
They are available in green or black as standard.
Basic Profiles of Chain Guides
As standard, the guides are supplied in lengths of 2 m or 3 m and can be used either separately or with galvanized steel or stainless steel C-profiles.
The basic dimensions for roller chains according to DIN 8187 are standardized, other designs are made to order.
Documents for Download
Question about the Chain Guide Category
Do not hesitate to contact us with any questions about products in this category.