Drive Roller Chains
Roller chains are the most common type of drive chains. They are standardized according to ISO 606 (ČSN 02 3311, DIN 8187), i.e. chains of the European B-series, or according to ISO 606 (DIN 8188), i.e. chains of the US A-series, also known as ASA or ANSI.
The chains consist of outer links with pins and inner links with bushes on which rotating rollers are mounted. The chains are made of steel. The exact grade of steel, production method and heat treatment of the steel of the individual parts vary by chain type, size and manufacturer.
The standard design of drive roller chains can be simplex, duplex or triplex.
Chains Construction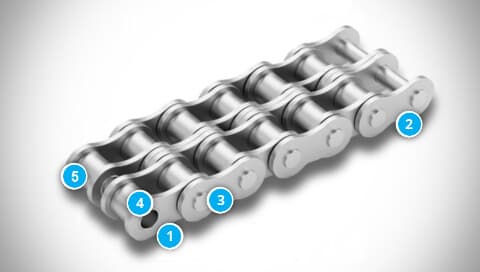 Inner link
Outer link
Pin
Bush
Roller
Chains Fields of Use
Roller chains are designed for general use in light and heavy industry.
They are used in drives, but they can be fitted with attachments to transport material.
Chains Material
Steel.
Chains Code Description
Example:
08B-1 DIN 8187 KÖBO (1/2 × 5/16) - 5m Pack
| Code Part | Description |
| --- | --- |
| 08B | Type of chain |
| 1 | Simplex |
| DIN 8187 | European standard (B Series) |
| KÖBO | Manufacturer |
| 1/2 × 5/16 | Pitch in inches × internal width in inches |
| 5m Pack | Standard package |
Chains Basic Profile
Documents for Download
TYMA CZ Catalogue
Czech and English (PDF 3.77 MB)