Taper Lock Adaptors
Adaptors are standardized components that are used to fasten components to shafts using conical Taper bushes.
The hubs or adaptors are firmly connected to the component. Once fixed, the component is capable of transmitting torque while being secured against axial displacement.
Caution
Items in this group are not part of the Eshop. Prices and delivery terms will be provided via email.
Please enter desired item, design and quantity, and you can send queries using the Inquiry form below.
Adaptors Fields of Use
Adaptors are used in a variety of industrial applications.
They are used to fix various rotating parts such as impellers, rims, non-standard pulleys, sprockets and plate wheels, couplings and other components.
Adaptors Material
Steel C43.
Documents for Download
TYMA CZ Data Sheets
Czech and English (PDF 259.44 kB)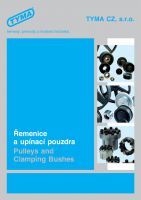 TYMA CZ Catalogue
Czech and English (PDF 3.64 MB)