CONTI-V MULTIRIB Automotive Poly-V-Belts
CONTI-V MULTIRIB Automotive belts are V-ribbed belts for motor vehicles, passenger cars, commercial vehicles, trucks, buses and tractors.
Nowadays they are gradually replaced by grooved belts CONTI-V MULTIRIB PK.
Low electrical conductivity – for compliance with requirements to ISO 1813.
Caution
The TYMA CZ focuses mainly on the supply of belts for industrial use. We only store car belts in selected sizes.
You can find the dimensions and prices of MULTIRIB Automotive belts together with CONTI-V MULTIRIB PK belts.
Go to CONTI-V MULTIRIB PK Category

To search for belt types by brand and year of car production, we offer a link to an external online catalog:
Belts Construction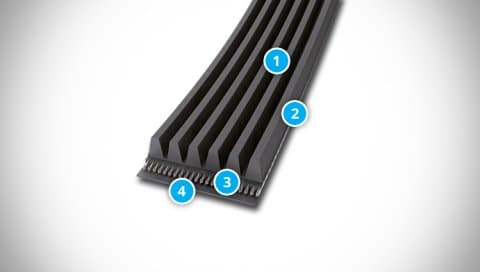 Synthetic rubber ribs
Embedding compound
Polyester tension member
Polyamide cover fabric
Belts Fields of Use
The CONTI-V MULTIRIB Automotive V-ribbed belts are used especially for motor vehicles of all types, with a high load and long service life requirements.
Belts Characteristics
High power and speed transmission
High durability, low maintenance costs
Compact gears with tensioning pulleys - serpentine gears
Temperature resistance from −30 °C to +90 °C
Oil and chemical resistance
Belts Code Description
Example:
6 PK 1215 CONTI-V MULTIRIB Automotive
| Code Part | Description |
| --- | --- |
| 6 | Number of ribs |
| PK | Profile |
| 1215 | Belt length in mm |
| CONTI-V MULTIRIB Automotive | Type of belt |
Notice
The number of ribs means number of elevations on the belt = number of grooves on the pulley.
Documents for Download
Belt Manufacturer Profile
Continental is the world's largest specialist for rubber and plastics technology in the non-tire rubber sector. A division of Continental AG, the company develops and produces functional parts, components and systems for the automotive and other important industries.
ContiTech importance on immediate proximity to customers. ContiTech is active in 26 countries with 75 production sites and more than 40 R&D facilities and sales organizations. The customers around the world stand to profit: Greater safety. Higher efficiency. Closer proximity.
TYMA CZ, s.r.o., is the official distributor of Continental ContiTech Power Transmission Group.