STD S2M-106-15 CONTI SYNCHROBELT
Timing belt
Belt Parameters
Profile:
STD S2M
Profile
Multiple belts: profile – no. of ribs. Caution! The number of ribs refers to the number of belt protrusions = the number of teeth on the pulley!
Délka L2 (mm):
z=53
Length L
Li - inside lenght, Ld - pitch length, La - outside length, Le - effective length. Timing belts z = no. of teeth.
Material:
CR - Neoprene Rubber
Material
In the TYMA Product Catalogues you can find this material also described with the abbreviation CR.
Belt Description
STD S2M-106-15 CONTI SYNCHROBELT is a rubber timing belt that enables powerful and reliable solutions across a wide range of performance.
The belts provide low noise even at high speeds. They are made of highly durable rubber compound with a glass cord tension member. The teeth are protected by a special impregnated fabric. The wide variety of profiles and sizes allows very different applications.</>
Belt Construction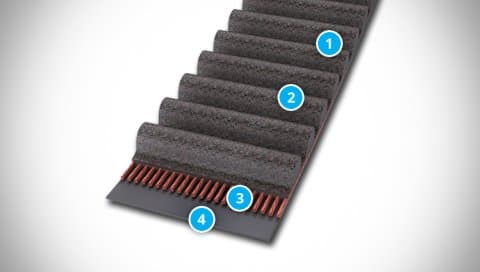 Polyamide fabric
Synthetic rubber teeth
Glass cord tension member
Synthetic rubber backing
Belt Fields of Use
The STD profile S2M timing belts are used in all industrial applications for compact drives in small home appliances, printers, scanners, copiers, textile machines, machine tools and many other machines and equipment.
Belt Characteristics
High transmission power and long life
Conditionally resistant to oil
Suitable for tropical climates
Temperature range depending on application from −20 °C to +100 °C
Maintenance-free
Documents for Download
Belt Manufacturer Profile
Continental is the world's largest specialist for rubber and plastics technology in the non-tire rubber sector. A division of Continental AG, the company develops and produces functional parts, components and systems for the automotive and other important industries.
ContiTech importance on immediate proximity to customers. ContiTech is active in 26 countries with 75 production sites and more than 40 R&D facilities and sales organizations. The customers around the world stand to profit: Greater safety. Higher efficiency. Closer proximity.
TYMA CZ, s.r.o., is the official distributor of Continental ContiTech Power Transmission Group.