CONTI SYNCHROLINE Neoprene Open-Ended Timing Belts
CONTI SYNCHROLINE neoprene open-ended belts have been developed for use in automatic door opening systems.
Their excellent length stability ensures high operational reliability and a long maintenance-free service life. As lifetime products they are very hardwearing and their matched materials ensure they run smoothly in continuous operations. They are easy to handle and to mount.
Belts Construction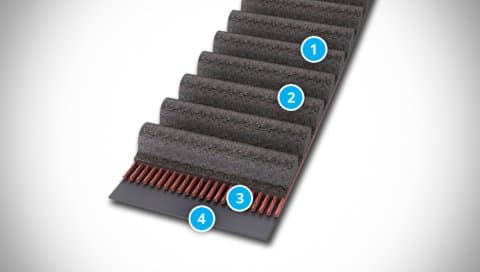 Polyamide fabric
Synthetic rubber teeth
Glass cord tension member
Synthetic rubber backing
Belts Fields of Use
The CONTI® SYNCHROLINE timing belts are mainly used in automatic door opening systems, lift doors and garage doors.
Belts Characteristics
High transmitted power and long service life
Conditionally resistant to oil
Suitable for tropical climates
Temperature range, depending on application, from −20 °C to +100 °C
Belts Code Description
Example:
HTD 8M - 15 CONTI SYNCHROLINE
| Code Part | Description |
| --- | --- |
| HTD | Profile |
| 8M | Tooth pitch in mm |
| 15 | Belt width in mm |
| CONTI SYNCHROLINE | Type of belt |
Notice
CONTI® SYNCHROLINE timing belts are manufactured in rolls in the following profiles and widths 5M, 8M (HTD profile) and S8M (STD profile) in widths of 10 mm, 12 mm, 15 mm and 20 mm.
Timing belts can also be produced to order in the CXP or other types.
Documents for Download
TYMA CZ Data Sheets
Czech and English (PDF 200.91 kB)
TYMA CZ Catalogue
Czech and English (PDF 4.54 MB)
ContiTech Product Overview
English and German (PDF 216.98 kB)
Belt Manufacturer Profile
Continental is the world's largest specialist for rubber and plastics technology in the non-tire rubber sector. A division of Continental AG, the company develops and produces functional parts, components and systems for the automotive and other important industries.
ContiTech importance on immediate proximity to customers. ContiTech is active in 26 countries with 75 production sites and more than 40 R&D facilities and sales organizations. The customers around the world stand to profit: Greater safety. Higher efficiency. Closer proximity.
TYMA CZ, s.r.o., is the official distributor of Continental ContiTech Power Transmission Group.