SB 20 - for RE/FE 20, for M8 Screw
Support for Mounting of Tensioners
Price for you :
Price without VAT: 17.68€
Price including VAT: 21.40€ with VAT
Catalogue price excluding VAT:
18.01€
Out of stock, we usually ship within 2 weeks Usual time this product is ready for shipping. Actual availability may vary due to unforeseen circumstances in exceptional cases.
Support Parameters
No. of grooves/teeth:
z=55
No. of grooves/teeth
V-pulleys and Poly-V pulleys number of grooves, timing pulleys and sprockets number of teeth.
Brand:
-
Brand: -
This standardized product may come from different manufacturers. We will provide you with the currently supplied brand upon request.
Pitch diameter Dw (mm) (mm):
58,00
Width (mm):
32,00
Width (mm)
Face width.
Material:
Steel
Material
In the TYMA Product Catalogues you can find this material also described with the abbreviation ST.
Support Description
SB 20 - for RE/FE 20, for M8 Screw are standard L-shaped mounting elements that are used to attach an automatic tensioner for tensioning of chains or belts to the machine.
Support Construction
L-shaped support
Holes for screwing to the tensioner
Holes for screwing to the machine
Support Material
Steel.
Documents for Download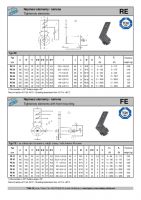 TYMA CZ Data Sheets
Czech and English (PDF 410.26 kB)
TYMA CZ Catalogue
Czech and English (PDF 3.77 MB)